avoro

Donne per scelta,

per caso, per sbaglio..per destino

Shop Art Opere in vendita: Manz¨, De Chirico, Calder, Moore, Mir˛, Botero, Beuys, Lam, Warhol, CÚsar, Max Bill, Rosenquist, Cagli, Greco, Emilio Vedova, Mario Schifano....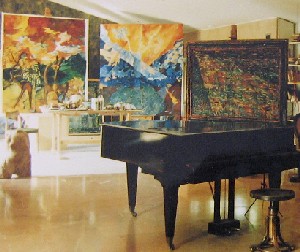 Luigi Granetto:
Italiano, English, Franšais, Deutsche

Art and Fashion "out of season" paintings ...Thus I dared looking for those "common values" in the world of Fashion among many people who hold out without having to rely on an understanding. The outcome is amid paintings and sculptures "out of season" dedicated to abstract expressions, levity and photo advertising, important pictures, objects and perfumes, play and strangely enough to some elderly portraits......so is there really a necessity for a subject?
..
avoro

5000 books on-line
: A
B
C
D
E
F
G
H
I
J
K
L
M
N
O
P
Q
R
S
T
U
V
W
X
Y
Z
avororicerca

Encyclopaedia of Art: A
B
C
D
E
F
G
H
I
J
K

L
M
N
O
P
Q
R
S
T
U
V
W
Z
avoro

-Arredo Design Shop: A
B
C
D
E
F
G
H
I
J
K
L
M
N
O
P
R
S
T
U
V
W
Z
voro

Architettura
: A
B
C
D
E
F
G
H
I
J
K
L
M
N
O
P
Q
R
S
T
U
V
W
Z
icerca
Attrici e Topmodel: A
B
C
D
E
F
G
H
I
J
K
L
M
N
O
P
Q
R
S
T
V
W
Y
Z
icerca

Attori: A
B
C
D
E
F
G
H
I
J
K
L
M
N
O
P
Q
R
S
T
U
V
W
Y
Z
Cantanti stranieri:
A
B
C
D
E
F
G
H
I
J
K
L
M
N
O
P
Q
R
S
T
U
V
W
X
Y
Z
icerca

Cantanti italiani: A
B
C
D
E
F
G
J-I
L
M
N
O
P
R
S
T
V
Z
Campioni & Campionesse: A
B
C
D
E
F
G
H
I
J
K
L
M
N
O
P
Q
R
S
T
U
V
W
Z
icerca

Moda e miraggi: proposte e link: A
B
C
D
E
F
G
H
I
J
K
L
M
N
O
P
R
S
T
U
V
W
Y
Z
icerca

Moda Scarpe dalla A alla Z: A
B
C
D
E
F
G
H
I
J
K
L
M
N
O
P
Q
R
S
T
U
V
W
X
Y
Z
icerca

Lingerie: A
B
C
D
E
F
G
H
I
J
L
M
N
O
P
R
S
T
U
V
W
X
icerca

Profumi: A
B
C
D
E
F
G
I
J
K
L
M
N
P
R
S
T
U
V
Y
icerca

Creme e cosmetica le marche e i suggerimenti dalla A alla Z
A
B
C
D
E
F
G
H
I
J
L M
N
P
R
S
T
V
W
Z
voro

Editori e vendita libri on line
A B C
D E F
G H I
J K L
M N O
P Q R
S T U
V W X Z
Gnomiz Shop: moda, arte, libri, video, beauty, lingerie, software, .hardware, viaggi, scarpe, borse, abiti da posa, profumi, creme e cosmetica, calze, stoffe, gioielli, vino, arredamento, telefonia