Secret Encyclopaedia
A
B
C
D
E
F
G
H
I
J
K
L
M
N
O
P
Q
R
S
T
U
V
W
Z
5000 Libri on-line
A
B
C
D
E
F
G
H
I
J
K
L
M
N
O
P
Q
R
S
T
U
V
W
X
Y
Z


Analyses et indices sur les artistes:chaque jour 2 000 résultats d'adjudication supplémentaires enrichissent les banques de données en ligne en provenance des 2 900 maisons de ventes du monde entier.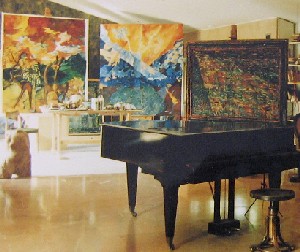 Granetto: Italiano, English, Français, Deutsche

Luigi Granetto svolge una intensa attività in campo artistico e letterario, Inventore di felici formule editoriali ha dato un significativo contributo alle ricerche sugli aspetti interdisciplinari delle arti...Continua

Viaggi: Lastminute, eDreams , Volagratis, Expedia.it il motore di ricerca dei voli low cost; Crocierissime.it: offerte di Costa Crociere, MSC Crociere e di tutte le compagnie di crociera ai prezzi migliori del mercato. Auto Europe: noleggio auto per vacanze in tutto il mondo. TUIfly.com:biglietti aerei low-cost a partire da 29 Euro. Air France
a
a
a

Per informazioni, immagini delle opere descritte e stime staff@gnomiz.it
Risorse Gnomiz vai a Man Ray: libertà vo' cercando di Luigi Granetto, Alis Levi

Libri: Dal Bon Giovanna Doppio ritratto: Zoran Music-Ida Barbarigo "Ognuno sprofonda nel proprio universo pittorico, con modalità che acquistano spessore e durata con il passare degli anni. Quel dipingere che anima le loro vite come un imperativo a cui non potersi sottrarre. Dipingere è la sola intima necessità per entrambi: forse l'unico vero segreto del loro legame indissolubile." Ed.De Ferrari Zoran Music. Catalogo della mostra (Viney, 21 giugno-settembre 2003) 5 Continents Editions Omaggio a Zoran Music. Opere scelte 1948-1990. Catalogo della mostra

Vedi anche


Quotazioni Antonio Zoran Music Paysage, 1960 pastelli su carta app. su tela 32,7x50,3 (3.500/4.000) 3.000 quotazioni in Euro Farsetti, Prato 12 marzo 1999


Zoran Music was born in Gorizia, 12th February 1909. In this period Gorizia was part of the Austro-Hungarian empire. Music's father was headmaster of the school of Bukovitza, a village a few kilometres from Gorizia. His mother was a teacher. Both parents were from San Martino, a village in the Goritian Collio region. 1930 - Music completes his higher education at the Scientific "Liceo". 1930-35 - Zoran studies at the Academy of Fines Arts in Zagreb. His teacher is Lyuba Babic. After completing his studies he finally realizes his a dream of many years: seeing the paintings of Goya and Greco. With poor means but very resolutly he goes to Madrid and remains in Spain for more than a year. He assiduously visit the Prado museum, and copies Goya's works several times. He lives for a while in Toledo to study Greco's painting. 1936-40 - At the beginning of the civil war he leaves Spain. He divides his time between Dalmazia and the island of Curzola. 1943 - Music arrives for the first time in Venice. 1944 - During his second stay in Venice, he is arrested by the Gestapo and transferred to Trieste. Here, he is imprisoned for four weeks in a very narrow cell underground, flooded by water. He is questioned and tortured. When given the choice between joining the special Istrian detachment of S.S. or going to Germany, Music prefers to go to Dachau. At the end of November 1944 he is registered as prisoner n. 128231. 1944-45 - His only means of expressing his experience of the extermination camp during those terrible months is by drawings that he makes in a state of hoplessness. The horror is such that his only thought is to leave a trace of this inconceivable event. Through this witness he manages to survive. The drawings are executed in extremely risky circumstances, in conditions hard to imagine: hidden ink diluted with water to keep it, small folded sheets hidden under his shirt; paper and pens stolen from the laboratories where he was working with other prisoners. Nearly reduced to the same state as the dead bodies that are all around him, he nevertheless finds the strength to continue living. Among two hundred drawings executed he manages to save only thirty-five. 1945-46 - At the end of the world war he is freed by the Americans. Exhausted and ill, he is transported to Lubjana, from wich, once again he has to escape from imminent arrest by Tito's communist regime, wich criticizes him for not having joined the party whilst imprisoned at Dachau. He escapes from hospital where he was taken, hidden in a truck transporting newspapers to the American zone in Gorizia. 1946 - After a brief stay with his relatives in Gorizia Music returnes to Venice. He finds many old friends who assist him greatly. Master G. F. Malipiero place at Music's disposal a studio on the top floor of the academy of Music "Benedetto Marcello". During summer he stays during in Cadola near Ponte nelle Alpi where Guido Cadorin engages him as one of three assistants undertaking the painting of the wide frescos in the parish church. In fact, it transpired that the frescos were completed solely by Guido Cadorin. 1947-48 - The wonder of regaining his life is evident in the series of watercolours: the Zattere, the Giudecca canal, the Grand Canal and Rialto, all of wich he executed in Venice during this period. At the same time he continues to develop the subjects he started to draw before his deportation: Dalmatian landscapes with horses, small dry walls, donkeys and women travelling to the market under the burning sun. Visions of peace, of simplicity and of touching love for his land. But now, after his experience of the concentration camp, Music is another being, a true painter. 1948 - For the first time he exhibits two paintings in the Biennale of Venice and he has a few success. Massimo Campigli helps him. Campigli introduces to him Salomè and Eric Estorick too, who are two famous collectors that will support Music during all their life. In the study of the maestro Benedetto Marcello, Music meets a lot of illustrious persons: Kokoschka always meets him when he is in Venice. Alix de Rothschild becomes his first French collector. Marc Tobey, his manager of art gallery A. Sellinger from Seattle and the American writer Carson McCullers buy some of his paintings. The Italian landscape fascinates Music during his travel. In the train he draws a lot of rapid sketches seeing the wonderful "crete" around Siena. Travels to Swiss; in Zurich he executes lithography for the editors Arta, Wolfensberger and the Guilde de la Gravure. 1949 - In September Zoran Music and Ida Cadorin-Barbarigo get married. In Venice Music executes his first engravings. 1950 - Music participates in the 25th Biennale of Venice. He receives the Gualino Prize. 1951 - Massimo Campigli and Gino Severini organise the Prix de France in Italy; the prize consists in a monographic work of the winner and in a personal exhibition at the Guido Caputo's Galerie de France in Paris. Zoran Music and Antonio Corpora are the winners for the painting, Marcello Mascherini for the sculpture. Thanks to Mario Rimoldi Cortina becomes a meeting place for painters and intellectuals. 1952 - Guido Caputo and Myriam Prevot organise the first exposition of Music (with Antonio Corpora) at the Galerie de France. Jean Bouret writes the Music monograph and the Centre d'art italien of Paris is the editor. Jean Bouret friendship and support will be very important for Music. 1952 - The exposition changes the career of Music. The gallery offers to the painter a contract and he can live in Paris. He doesn't leave his house in Venice. He still lives between Venice and Paris. 1953 - In Paris he works in the study where before lived Chaim Soutine: 16, rue St. Gothard in Montparnasse. He changes his Venetian study too and now he lives near the Accademia museum. First exhibition in New York at the Cadby Birch Gallery. The owner is Patty Birch, a young American girl rich in enthusiasm, culture and intuition. She bought important paintings for American museums (impressionists and others) and contemporary artists to her. She collected Music, Morandi, Marino Marini, etc. 1955 - Music executes a lot of etchings in Lacounière study in Montmartre. His graphic works are published by Nesto Jacometti, Klippenstein, Guilde de la Gravure and lots of others. Exposition in London at Arthur Jeffres Gallery. He meets Denys Sutton, who knows his works from the Biennale of Venice. Marcel Brion writes the introduction of the exposition catalogue hold at Carlo Cardazzo Gallery in Milan. Music exhibits also in the quadrennial of Rome with the presentation of Giuseppe Marchiori. His friend René de Solier writes a monograph for the Obelisco Edition in Rome. He exhibits every year his works at Obelisco Gallery and he becomes friend with Irene Brin and Gaspero Del Corso. 1956 - Grand Prix for graphic art at the Biennale of Venice. 1958 - Exposition in Paris at the Galerie de France. 1959 - Music leaves his poetic but very uncomfortable study in Montparnasse to stay in a larger in rue Des Vignes. 1960 - He receives the Unesco prize for graphic art at the Biennale of Venice. 1961 - Music exhibits at the Bruno Lorenzelli Gallery in Milan. This great art dealer and connoisseur of ancient and modern art, buys an important group of Music works. 1962 - Rolf Schnucking publishes the catalogue raisonné of Music graphic work from 1947 until 1961 on the occasion of a retrospective organised by the museum of Brunswick. 1963-64 - Hans Peter Londolt buys for the museum of Basilea 26 drawings, 10 made in Dachau in 1944-45. 1970 - In this year Music begins the cycle "Nous ne sommes pas les derniers" with the words "We are the last one"; the prisoners of Dachau hoped that no persons will have lived again the hell of the concentration camps. After the 2nd War the world will have been better, but the reality was different. William Sandherg writes the catalogue's preface-poem of the exposition at the Galerie de France. In the same year a Music monograph is published in the "Musée de Poche" with the text of Jean Gregnier. 1971 - The exhibition "Nous ne sommes pas les derniers" goes to Munich at the Haus der Kunst of Eric Steingraber, then to Bruxelles, at the Palais des Beaux Arts of Emil Langui, and to Treviri at the museum, organised by Kurt Schweiches. Lots of paintings of this cycle are now property of public collections. In Paris, at the centre Georges Pompidou, at the Museum of Modern Art and in lots of collections; and also at the museums of Munich, Gerusalemme, Venice, Copenhagen, Oslo, etc. 1972 - Jacque Lassaigne dedicates to him an important retrospective, the first one for a living painter, at the Museum of Modern Art in Paris. 1973 - Music realizes a great mosaic work in Ravenna with the mosaicistes Signorini. The work is commissioned by the architect Sopp Ruff for the internal court and it is in the of the Hilton Hotel, in Munich. Gertrud Sutton Kobke organises a travelling exposition in Scandinavia. 1974 - The Foundation Querini Stampalia dedicates to Music a personal exhibition, organised by Giuseppe Mazzariol in Venice. He begins the cycle "Motivi vegetali". 1977 - Great retrospective exposition at the Mathildenhohe in Darmstadt, organised by Bernd Krimmel. Dieter Kopplin, director of the Prints Collection, exposes 14 paintings of Music (1947-51) at the museum of Basilea. Ole Henrik Moe, director of the Foundation Sonia Heine-Niels Ustad, organises an important exhibition in Hovikodden, Oslo. 1980 - Francesco Valcanover welcomes in the Accademia Gallery the Music retrospective. Another great monograph of Music is published, with the text by Giuseppe Mazzariol. 1981-82 - Music paints again works with the subject "Canale della Giudecca" and "Punta della Dogana". He is appointed "Commandeur des Arts et Lettres" in Paris. Patty Birch buys more of 20 paintings of the cycle "Nous ne sommes pas les derniers" for her foundation. Important presentation at the Basilea Art Fair, in the booths of the Ditesheim Gallery and Krugier Gallery of Geneva. 1983 - Exposition at the Claude Bernard Gallery in Paris. André Chastèl presents the catalogue of the Music works from 1950, when he participated in the "Prix Paris a Cortina". 1984 - He begins the cycle "Interiors of cathedrals". The Biennale of Venice dedicates to him a room. In Lugano Sergio Grandini publishes an album with 26 drawings of Music. 1985 - Giuseppe Mazzariol is the director of a great Music retrospective exposition at the Ala Napoleonica of the Correr Museum in Venice. 1986 - Retrospective at the Jenisch-Museum of Vevey. Personal exposition at the Welz Gallery in Salzburg. Personal exhibition at the Claude Bernard Gallery. 1987 - Music begins the cycle "Autoritratti". First exposition at the Contini Gallery in Venice and Asiago. 1988-90 - Music continues the cycle "Autoritratti" and begins the cycle "Atelier". He presents his new works at the Basilea Art Fair in the Krugier-Ditesheim Gallery booth. The French president François Mitterand confers the title of "officier de la Legion d'Honneur" upon Music. 1992 - Important exposition at the Villa Medici in Rome. The same exhibition goes to Palazzo Reale of Milan. The Albertina museum of Vienna shows his drawings. The Jan Krugier Gallery of New York presents a great exposition. 1993 - Exposition at the Contini Gallery in Cortina d'Ampezzo. 1994 - Exposition at the Cultural Centre Bancaixa in Valencia. 1995 - Great retrospective in Paris at the National Galleries of the Grand Palais. The exhibition comprehends 261 works presented by the Commissioner Jean Clair. At the end of the year the Bayerische Akademie of Munich welcomes the exposition "The age of the maturity" presented by Wieland Schmied. 1996 - Exposition at the Jorge Mara Gallery in Madrid. 1997 - Exposition of Music works on paper (1987-97) at the Galerie Marwan Hoss in Paris. Sabina Schulze presents an exhibition comprehending works from 1945 to 1997, at the Schirn Kunsthalle in Frankfurt. Contini Arte

Opere uniche: Matta, Emilio Isgrò, Lucio Del Pezzo, Rodolfo Aricò, Giovanni Sesia, Marco Lodola, Plumcake, Dario Brevi, Angelo Dozio, Agostino Ferrari, Battista Luraschi, Umberto Mariani

Collezione 8X8 di Cesare Zavattini: Carla Accardi, Vincenzo Agnetti, Titina Maselli, Franco Angeli, Augusto Murer Fabio Mauri, Bruno Caruso, Ezio Gribaudo, Sergio Sarri, Ilia Peikov, Luigi Parzini, Simona Weller, Pron Pachner, Agostino Pisani

Grafica: Valerio Adami, Franco Angeli, Piero Gilardi, Sandro Chia, Giuseppe Spagnulo, Emilio Greco, Pericle Fazzini, Dadamaino, Peter Phillips, Dalì, Man Ray, Victor Vasarely, Sutherland, Masson, Gentilini, Schifano, Matta, Rotella, Baj, Guttuso, Dorazio, Fiume, Carla Tolomeo, Annigoni, Aligi Sassu, Migneco, Orfeo Tamburi, Cantatore, Mario Nigro
.

grafiche rare: Giuseppe Spagnulo, Mario Nigro, Dadamaino, Peter Phillips, Franco Angeli, Piero Gilardi, Sandro Chia, Valerio Adami
Art and Fashion "out of season" paintings ...Thus I dared looking for those "common values" in the world of Fashion among many people who hold out without having to rely on an understanding. The outcome is amid paintings and sculptures "out of season" dedicated to abstract expressions, levity and photo advertising, important pictures, objects and perfumes, play and strangely enough to some elderly portraits......so is there really a necessity for a subject?...Art and Fashion